Opera che verrÓ battuta in asta il 2 Novembre 2010 a New York...
Session 1 | 02 Nov 10 07:00 PM
Sotheby's New York
Lot 43
Salvador DalÝ
La Femme poisson
2,000,000Ś3,000,000 USD
Impressionist & Modern Art Evening Sale
Sale N08675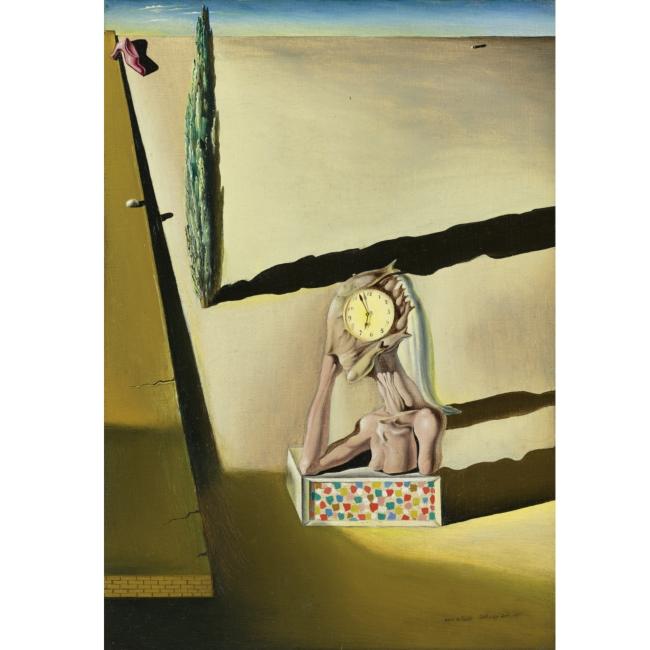 26.7 x 19 cm
Description:
Painted in 1930.
Signed Salvador DalÝ, dated 1930 and dedicated pour l'Olivette (lower right)
Oil on canvas
Robert and Nicolas Descharnes have kindly confirmed the authenticity of this work.
PROVENANCE
Sir Michael Sadler, United Kingdom (acquired by 1949 and sold: Phillips, Son & Neale, London, April 4, 1990, lot 23)
Private Collection, Paris
Private Collection, Basel
Daniel Filipacchi, New York (by 1999)
Private Collection
EXHIBITED
(probably) Hartford, Wadsworth Atheneum, Newer Super-Realism, 1931 (titled Poisson homme)
London, Zwemmer Gallery, Salvador Dali. Catalogue of an Exhibition of Paintings, Drawings & Etchings, 1934, no. 5
Leicester, Leicester Museum and Art Gallery, Exhibition of Contemporary Art, 1936
Leicester, Leicester Galleries, Works from the Collection of Michael Sadler, 1949, no. 124
New York, The Solomon R. Guggenheim Museum, Surrealism: Two Private Eyes, The Nesuhi Ertegun and Daniel Filipacchi Collections, 1999, no. 39, illustrated in color the catalogue
LITERATURE AND REFERENCES
www.salvador-dali.org,
no. 383, illustrated in color on the website
CATALOGUE NOTE
DalÝ's boundless imagination is at its best in this Surrealist composition from 1930. Dating from his most important period and painted the year before his magnificent The Persistence of Memory (fig. 2), the present painting includes similar iconography, including the clock, the desert landscape and the anthropomorphized assemblage, all rendered with pristine draughtsmanship and luminous brushwork. DalÝ considered this work to be a product of his paranoid delusions and drew upon the writing of Freud for creative inspiration. This picture is known as one of the artist's double-image compositions, in which a singular form is constructed from an assemblage of unrelated objects. Much in the manner of Arcimboldo's portraits from the 16th century (fig. 1), DalÝ has achieved a similar result by melding flesh-colored fish-forms to create the profile of a woman.
One element that plays a key role in this and several important Surrealist compositions is the shoe (fig. 3). For DalÝ, this object functioned as a fetish that was used to channel repressed sexual desires. According to Dawn Ades, "Freud saw fetishism as a pathological condition in which the fetishist, unable to acknowledge his or her attraction for some threatening or forbidden object of desire, finds gratification by displacing the impulse onto an object or body part, such as a glove or a foot... DalÝ's choice of a woman's shoe, which Krafft-Ebing in his Psychopathia sexualis had associated with masochism, ranks alongside other subversive items, such as gloves, zippers, feathers, hair and fur, that recur in numerous Surrealist objects of the 1930s. These are all classic examples of a fetishist's object of displaced desire, in which the libido is transferred from the whole object of affection to a part, a symbol, or an article of clothing" (Dawn Ades, DalÝ (exhibition catalogue), Palazzo Grassi, Venice & Philadelphia Museum of Art, 2004-05, pp. 158-161).
DalÝ probably used a magnifying glass while composing this picture in order to render the minute details and inscription along the bottom right edge. "Olivette," referenced in the dedication, was the artist's term of endearment for his lover Gala and her olive-toned skin. DalÝ and Gala met in 1929, around the time when the artist was staying in Paris where he assisted Luis Bu˝uel with the filming of Un Chien Andalou. During his stay in the capital, DalÝ came in contact with the Surrealists and invited them to visit him in CadaquÚs in the summer. Among those who spent the summer with DalÝ were Gala and Paul Eluard with their daughter CÚcile, as well as Bu˝uel and RenÚ Magritte with his wife. According to Robert Descharnes, during this meeting "Dali fell madly in love with Gala Eluard, and the legendary couple Gala/Dali was born. Gala proved to be not only his lifelong companion and the inspiration for his work, she also filled him with exaltation and strength. It was she who enabled him to free himself from the prejudices, doubts, and hesitations that were tearing him apart; it was she who helped him attain all his goals" (R. Descharnes, Salvador Dali: The Work, The Man, New York, 1984, p. 85).
As Robert Descharnes commented: "At the time, Gala was everything to him. Gala followed him everywhere, defended him, and protected him against others and against himself. He could hardly believe it: 'The idea that in my own room where I was going to work there might be a woman, a real woman who moved, with senses, body hair and gums, suddenly struck me as so seductive that it was difficult for me to believe this could be realized'" (Robert Descharnes & Gilles NÚret, Salvador Dali, The Paintings, vol. I, Cologne, 1994, p. 174).
FONDATORE







VENDUTA a 2.322.500 USD con diritti d'asta che equivalgono a 1 655 942 EURO!!

FONDATORE







---
Permessi di questa sezione del forum:
Non puoi
rispondere agli argomenti in questo forum